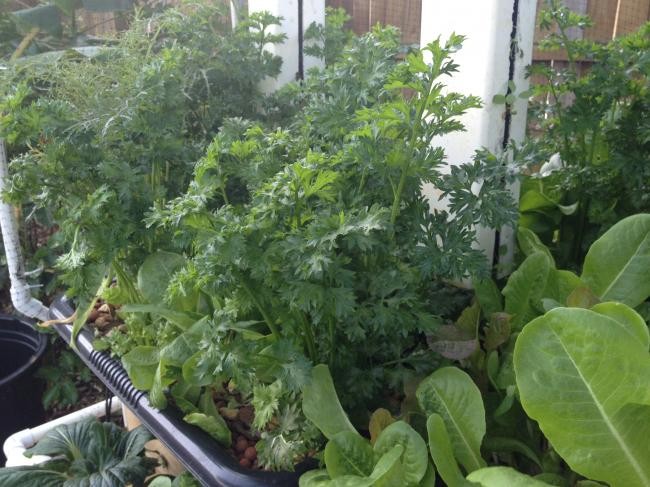 Sahib Aquaponics Zero Lot Hybrid Aquaponics System was recently highlighted as being "A Good Fit For Small Spaces". This was an article in Cornell University Small Farm Program Newsletter – the Urban Gardening section.
Here is an extract from the article by Molly Davis…
"A Good Fit for Small Spaces
In suburban Orlando, Florida, farmer Sahib Punjabi has developed several models of miniature re-circulating farms to fit in small, underused spaces, such as storage rooms and patios. In only 18 square feet, Punjabi's "Zero Lot" Backyard Aquaponic System combines a variety of plant beds with a 55-gallon fish tank.
He aims to build a totally self-sufficient system that can be deployed anywhere, from developing-world villages to U.S. neighborhoods.
"This was a far superior way to grow it locally, grow it naturally, without having to resort to harmful pesticides and fertilizers and such, because if I did, my fish would die," said Punjabi. Goldfish require less oxygen than many food fish, but still supply enough fertilizer to nourish lettuces, herbs, and vegetables. Punjabi uses a variety of bedding materials.
"The whole idea is that the plants absorb nutrients from the water so that pure water goes back to the fish tanks," said Punjabi.
A single 50-watt pump circulates the water through pipes. Valves control the inflow into the beds. Punjabi emphasizes the importance of maintaining the water chemistry, especially the pH and the nitrogen cycle."
You can read the complete article here:
SAHIB AQUAPONICS is providing training workshops for community members and students around the U.S., interested in learning innovative methods and market-based solutions using urban agriculture and Aquaponics. Sahib will share with you the endless possibilities of how to grow your own food locally and naturally without the use of harmful pesticides and chemical fertilizers by using these Aquaponics hybrid urban growing systems.These Aquaponics hybrid urban growing systems can be scaled to size and can be replicated. They can be modified to be operated off grid as well as expanded as the need arises. Such systems can be used to have fresh food at home, work or anywhere they are set up. They are excellent tools to use as teaching aids so that we can empower the future generation with the knowledge to grow their own food locally by natural means. Sahib's Aquaponics hybrid urban growing systems can be the basis of feeding the family, the community as well as provide income to the urban farmer. Sahib will also share how such systems can be used in urban retail economy, both by food establishments as well as food/produce retail outlets to enable the consumer to purchase food that has been grown locally and by natural means. Food that is "live" (a new twist on the label "Fresh"), and the type recommended by most medical and health professionals as what we should be eating.
2012 Aquaponics training workshops by Aquaponics Urban Gurus
Next Aquaponics Workshop: June 9th & 10th 2012
These Aquaponics Workshops by Aquaponics Urban Gurus are an excellent place to learn Aquaponics and be empowered to build Aquaponics systems to grow organic food for their family without using harmful pesticides or chemical fertilizers, discover the potential to create another income source as well share such knowledge with many more to help provide sustainable solutions to the world hunger epidemic.
Sahib believes that such training should be affordable so as to enable all sectors of the society to educate and empower themselves in this wonderful way of growing organic food. He also believes in smaller class sizes (not to exceed 20 participants), so that the Workshop training can be personalized as much as possible. By being a participant in such Aquaponics workshops, you will really learn and be empowered to grow your own food locally and naturally.
Space is extremely limited so reserve your space now
Sahib's Training Workshops by Aquaponics Urban Guru's
Here is a recent e-mail from one of the Workshop participants…
"Hello Sahib,
I really enjoyed your 2 day Aquaponics class.  It was very informative and practical.  You made what seemed like complicated gardening into a fun learning experience.  Your explanations made it easy to comprehend the principles behind Aquaponics. Seeing your Aquaponics garden and your simple systems setup demonstration, removed all doubts.  Even though I am a beginner, I am confident that I can do this now.  It opened up a whole new world of providing healthy "organic" food for myself and others.  An excellent job done! I will recommend you classes to everyone. Rajaji "
God bless,