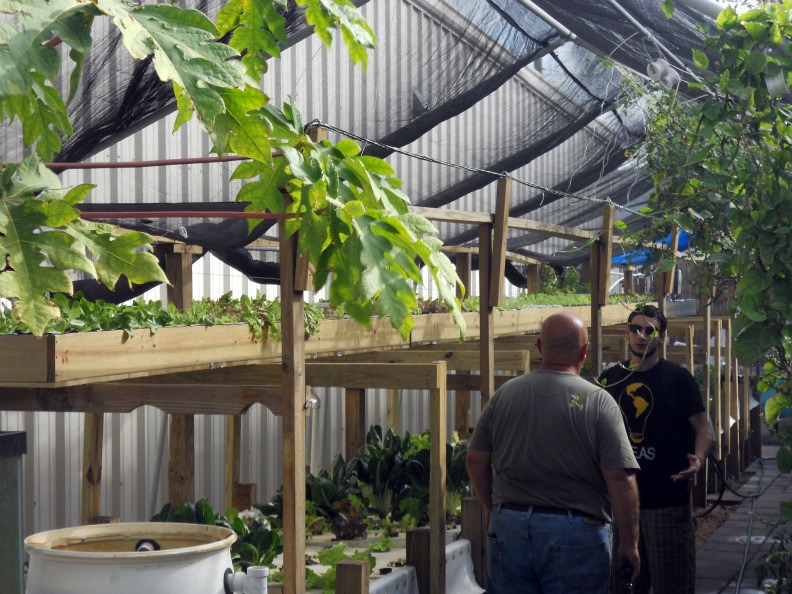 Aquaponics News – Update
Sahib replaces NFT's in Phase I with Vertical Shallow Water Culture (SWC)
In the original design of Phase I at Sahib Aquaponics Research Farm, Sahib introduced NFT's made of 3 inch PVC pipe. They were three 48ft long NFT's mounted over the deep water culture (DWC), grow bed. They were installed in late September 2010 and were watered by the effluent rich fish water using the same pump as that watered the DWC. During the initial months we experienced fantastic growth of whatever we planted and never had any issues as regards clogging and water flow constraints. During the summer last year, after they had been in operation for just under one year, we started to have considerable issues with clogging, sediment settling at the bottom of the pipes and water overflows. We also noticed that there was a significant change in the water temperature towards the end of the 48ft NFT's. Needless to say, we experienced a significant reduction in the growth yields and times of anything planted. We also realized that if we left any plants for some time in the NFT's, the root system would seriously compound to the water flow issues. We wanted to be able to increase aeration in the growing area but could not do so in the NFT's and found it difficult to clean them. Perhaps if they were built in smaller lengths, such problems would have been easy to address. What was the solution to still be able to maximize the growing space in the waste land Sahib Aquaponics Research Farm is located in?
As we were building Phase II, what we jokingly refer to as "Vertical Mania", we designed a Shallow Water Culture bed (SWC) with the following dimensions; 6 inches deep, 2 feet wide and 12 foot long. This gave us a bed with a maximum water capacity of under 100 gallons, thus with wood, a total weight load around 1,000lb. With the 2 inch raft, the actual amount of water in the SWC would be less than the 100 gallons thus the lower weight could make its vertical suspension possible. The additional amount of water would allow increased aeration and the short length of the SWC would keep the water temperature more stable. The SWC would be ideal for plants that did not require long harvests or have extensive root systems. We installed our first vertical SWC in Phase II in late November 2011 and have experienced fantastic results. We have proceeded to design and install a two level SWC system and are working on a three level system to increase the overall growing capacity in a limited space. Given the advantages of SWC, Sahib decided to remove the NFT's and utilize them elsewhere in shorter lengths and replace them with four SWC's. We have included some photos of the changes below. We will post more at a later date and report of any issues or problems.
SAHIB AQUAPONICS is a Florida, USA domiciled corporation and is a pioneer in developing and building Aquaponics hybrid urban growing systems for sustainable urban gardening. The company specializes in Aquaponics and in the promotion of sustainable urban gardening and the establishment of such Ecosystems. Their mission is to strive to be at the forefront of sustainable urban gardening by adopting the latest Aquaponics technologies and growing methods to provide both high quality food and fish, competitively priced, grown locally and grown naturally. SAHIB AQUAPONICS is providing training workshops for community members and students around the U.S., interested in learning innovative methods and market-based solutions using urban agriculture and Aquaponics.
As promised, we are also sharing some photos of the Zero Lot / Backyard Gardener Aquaponics Hybrid System that we introduced at the last Aquaponics Workshop on December 10th & 11th 2011. There are now SIX different growing methods being used by this small system. What a fantastic system to have in your own Zero Lot or Backyard. Sahib will share with you the endless possibilities of how to grow your own food locally and naturally without the use of harmful pesticides and chemical fertilizers by using these Aquaponics hybrid urban growing systems. These Aquaponics hybrid urban growing systems can be scaled to size and can be replicated. They can be modified to be operated off grid as well as expanded as the need arises. Such systems can be used to have fresh food at home, work or anywhere they are set up. They are excellent tools to use as teaching aids so that we can empower the future generation with the knowledge to grow their own food locally by natural means. Sahib's Aquaponics hybrid urban growing systems can be the basis of feeding the family, the community as well as provide income to the urban farmer. Sahib will also share how such systems can be used in urban retail economy, both by food establishments as well as food/produce retail outlets to enable the consumer to purchase food that has been grown locally and by natural means. Food that is "live" (a new twist on the label "Fresh"), and the type recommended by most medical and health professionals as what we should be eating.
2012 Aquaponics training workshops by Aquaponics Urban Gurus
Following the successful inaugural Aquaponics training workshops by Aquaponics Urban Gurus, Sahib Aquaponics will be holding numerous Aquaponics Workshops in 2012. These Aquaponics Workshops by Aquaponics Urban Gurus are an excellent place to learn Aquaponics and be empowered to build Aquaponics systems to grow organic food for their family without using harmful pesticides or chemical fertilizers, discover the potential to create another income source as well share such knowledge with many more to help provide sustainable solutions to the world hunger epidemic.
Sahib believes that such training should be affordable so as to enable all sectors of the society to educate and empower themselves in this wonderful way of growing organic food. He also believes in smaller class sizes (not to exceed 16 participants), so that the Workshop training can be personalized as much as possible. By being a participant in such Aquaponics workshops, you will really learn and be empowered to grow your own food locally and naturally.
Here is a recent e-mail from one of the Workshop participants…
"Hello Sahib,
I really enjoyed your 2 day Aquaponics class. It was very informative and practical. You made what seemed like complicated gardening into a fun learning experience. Your explanations made it easy to comprehend the principles behind Aquaponics. Seeing your Aquaponics garden and your simple systems setup demonstration, removed all doubts. Even though I am a beginner, I am confident that I can do this now. It opened up a whole new world of providing healthy "organic" food for myself and others. An excellent job done! I will recommend you classes to everyone.
Rajaji "
Sahib is using the profits from Aquaponics training workshops by Aquaponics Urban Gurus to fund the development of Aquaponics for the poor hungry world villages. He has set up a separate group for this called "Feed Hunger Now" (see link below). Will you help join Sahib…can we work together in this venture? What ideas do you have to help towards this goal?
God bless,
Sahib promises to share with you the designs and pictures of Sahib's Aquaponics Hybrid Urban Growing Systems.
The Hobby / Nano System
The Balcony / Patio System
The Zero Lot / Backyard Gardener
The Urban Farmer / Community Gardener